health-care »
January 19, 2011 // 0 Comments
Vote to repeal Obamacare and to slow repeal of DADT.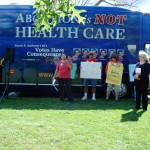 August 16, 2010 // 0 Comments
Diane Gramley, president of the AFA of PA joined the Susan B. Anthony List "Votes Have Consequences" bus tour in Meadville's Bicentennial Park on Monday morning.
March 25, 2010 // 0 Comments
Fox News is running a health care poll; Senate passes 'reconciliation bill; four PA 'pro-life' Democrats attend secret signing of executive order.
March 23, 2010 // 0 Comments
Representative Matt Baker has introduced the Freedom on Choice in Healthcare Act. Are you registered to vote?
March 22, 2010 // 0 Comments
How did you US Congressman vote in the federal takeover of health care?
March 19, 2010 // 0 Comments
Health Care Showdown coming Sunday.
March 15, 2010 // 0 Comments
Employment Non-Discrimination Act (ENDA) vote is expected soon; Democrats release their new 2,309 health care bill — what surprises are hidden in those pages?
March 9, 2010 // 0 Comments
Patrick Murphy is speaking at the Human Rights Campaign Regional Dinner in Philadelphia. "Pro-family" Senator Bob Casey, Jr. is one of the Honorary Dinner Chairs at the pro-homosexual Equality Forum's International Equality Dinner.
February 25, 2010 // 0 Comments
House hearings to be held on Don't Ask Don't Tell. Joint Chiefs urge Congress to not lift ban on homosexuals serving in the military.